Messaging has become a part of our daily lives due to the simplicity of real-time chat interaction and easy-to-use capabilities. For instance, a friend's iOS or text message on an iPhone or Android device, a work colleague's email on Gmail or Microsoft, a group chat in a Microsoft Teams or Slack workspace, or even instant messaging through social media. Due to their speed and extensive capabilities, these messaging and real-time chat offerings are essential to how people engage today.
The requirements to build a chat application
Here is a quick checklist of the requirements you'll need during the entire process if you're preparing for developing a chat app for your business:
A dedicated In-house Coders Team
Development Know-hows
Right Infrastructure
Capital Investment
Budget Plan
Security & Privacy Support
Time for Development
Hosting facilities
Why Should a Business Use a Chat Application?
We must be able to adapt to ongoing changes if we are to keep up in this fast-paced environment. One of the most important aspects of any business is communication. And enhancing these elements is important for expanding a firm.
Maintaining corporate and consumer relationships requires a strong customer service team. However, it is also beneficial to contact your clients wherever you are. A huge impact on your customers might come from displaying that you are evolving as well. This feature indicates your willingness to modify in order to attract future customers.
Additionally, chat applications enable collaboration and interaction among staff members. Teams of employees can collaborate to solve business problems with a single click. Conversations make sense in a world where people sit at computers all day. Additionally, a chat application is more effective for communication than email. Additionally, collaboration is the major objective of a chat program. This indicates that its integration may increase worker productivity and performance.
Benefits of chat application development
Here are some important advantages of chat application development:-
1. Engaging In-App Messaging Features
Apps with real-time messaging features have made virtual discussions more interactive and engaging. In an in-app chat, for instance, a text message containing features like custom emoticons, comments, gifs, and video is more engaging than just plain writing. In reality, it makes users more attentive to you and makes them feel a connection to your chat application.
In addition to this, your app's additional capabilities, such as typing indicators, message histories, and end-to-end encryption, give users everything they need to connect with others without switching to other external platforms.
In-app Instant messaging, or chat, is a method of communication. In fact, text messaging has overtaken social media as the main form of communication for millennials worldwide. When you create a chat feature for an app, you may link everyone from two users to many people in the same space. The second one is especially effective for collaboration software used by big businesses.
Even if people live far apart, chat apps allow them to virtually get closer. They can communicate easily without having to travel or spend a lot of time meeting in person. All of these have been virtually made possible due to chat apps! This implies that you will be able to attract consumers from all around the world to your application.
2. Unparalleled Scalability
Your chat application needs to be able to handle a lot of users, sessions, and channels as the user base expands. Your app can become extremely competent by setting up a highly resilient architecture that is accessible on a range of platforms and operating systems.
In turn, if a clear strategy is set up effectively when you take your first steps, the performance and dependability of your app will expand enormously.
3. Reliable Real-Time User Experience
A real-time chat application gives users a prompt and proactive platform for communication. In other words, a live messaging app has very high user engagement since it responds more quickly than other forms of communication.
When a consumer can resolve all of their questions and concerns within an app through live customer care chats, from the app owner's perspective, they are more likely to make a purchase. This enables the software to fulfill its function by keeping to modern standards.
4. Complete Security
Building a chat application has a lot of responsibilities in terms of protecting user privacy and security. Due to mistakes in the development of a secure infrastructure, some free chat apps have been accused of violating the usage of user information. A powerful and secure messaging environment with end-to-end encryption, HIPAA compliance, and moderation controls is being built by a number of other apps at the same time.
Build an app that enables your users to contribute their opinions, thoughts, and questions in a secure and comfortable environment.
5. Active Chat App Engagement
Users are excited by interactive features because they get instant rewards for anything they do. The chance that a user will become more obsessed with your app and brand increases when you integrate collaborative features like custom push notifications, wish lists, emojis, themes, and personalised portfolios into your app.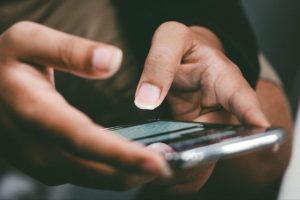 Similarly to this, many apps lead users to an external link or an entirely new page whenever they want help with a product or service. This interferes with the user's time using the app. However, when you create a custom in-app chat for your business, consumers don't leave the app to use other platforms. This gradually improves your company's transaction rate.
6. Building Chat solution With IBR Infotech
Without a doubt, creating an app from scratch may be difficult. There is, however, a better option for this. You can choose to integrate the pre-built features and modify your chat app in accordance with your business demands rather than developing every component from scratch.
You can include extremely interactive features in your current Android or iOS apps using this amazingly well-known SDK integration approach. It takes far less time, money, and resources to add a chat application to your business app.
IBR Infotech offers cost-efficient APIs and SDKs that provide more than 150 chat functionalities, including voice and video calling, to make this possible. The integrations will be able to fully comply with privacy laws and utilise end-to-end encryption for every conversation. Above this, IBR Inotech displays the lowest latency globally and the fastest reaction time.
Conclusion
In summary, as previously stated, there are various advantages to chat app development. Chat applications can assist developers in exploring the wider picture of app development, from connecting your users to producing leads that convert.
If you're thinking about developing a chat app for Android or iOS, we hope this article has helped you understand the possible benefits and how IBR Infotech helps you to get started with your text or video chat app development plan. Stay tuned for additional information!