The standard for modern order management has been set by Amazon. Orders are chosen, packed, shipped, and delivered by Amazon Prime within two days due to their own fulfillment facilities.
It also has incredibly high expectations for other suppliers. Many guidelines and benchmarks must be followed, and they change based on the type of vendor you are.
For any eCommerce brand that has a presence on the market, organization, automation, and oversight are crucial. Putting in place lightning-fast order processing may seem difficult, but an Amazon order management system can help your company meet the high requirements of the marketplace.
What is Amazon order management?
The process of handling incoming orders and giving customers the greatest experience is known as Amazon order management.
Although Amazon's in-platform technologies can be used to accomplish this, many online retailers also use Amazon order management software, especially if they have high sales volumes or use numerous online sales channels.
All phases of the order management process, including inventory management, order processing, fulfilment, and tracking, are provided by various solutions.
Advantages of Amazon order management
Regardless of the eCommerce platforms you use to sell your products, strategic fulfilment planning is a good idea. Amazon, it does have a few advantages that are specific to the site.
Order errors may be decreased, delivery times can be sped up, and shortages can be avoided by using Amazon order management software and tools. Additionally, it increases client satisfaction. And each of these factors may have an impact on your Amazon visibility.
This is due to the fact that its Buy Box and SEO algorithms consider pertinent criteria while determining which Amazon product listings should rank higher.
Great customer experiences
In addition to maintaining Amazon's standards, Amazon's order management system focuses on giving consumers the greatest experience possible.
Customers are more likely to provide favourable feedback, recommend your listing to friends, and make additional purchases from your Amazon store when goods come swiftly and easily.
Itís better for your team
It can be time-consuming and difficult for personnel to manage high-order quantities and unexpected increases in demand.
These surges can turn into an eCommerce curse without the proper infrastructure in place, especially if Amazon threatens to penalise your company for subpar performance. Order mistakes may rise as a result of this strain.
However, implementing a strong Amazon order management system will assist guarantee that increasing sales are always a pleasant development for your staff.
What is the process for Amazon order management?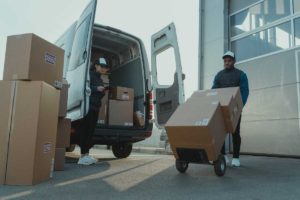 Brands that use Fulfilment by Amazon do not need to be concerned. Their primary worries are predicting how many pieces of merchandise they need to send to Amazon's fulfilment centres and making sure they arrive on schedule.
Seller-Fulfilled Prime merchants, on the other hand, must implement an Amazon order management system to ensure they meet the essential criteria to maintain their Prime status. They must, for example, follow Amazon's return policy, cancel less than 0.5% of purchases, and fulfill and send 99% of orders on the same day - even on weekends.
Other Amazon vendors must also follow specific guidelines. For example, all sellers must maintain an Order Defect Rate of less than 1%. This means that negative comments should be kept to a minimum, and your Amazon order management system can have a significant impact on this. Late shipment numbers will also have an impact on any brand vying for Amazon's Buy Box ranking.
There are two options for keeping these high standards. You can use the capabilities in your Amazon account to ensure that you have people monitoring orders around the clock. Alternatively, your company can implement Amazon order management software to automate and optimise the process to the greatest extent possible.
Amazon order management tools
Amazon provides various in-platform tools to assist sellers with order management. These are some examples:
This is accessible via your Amazon seller account and gives users a list of their current orders along with all the details you need to complete each one.
You can change orders from here, for example, to confirm shipment. Within your internal system, you may also print packing slips, grant refunds, and track Amazon orders.
Just as crucial as shipping your purchases is updating them. Because failing to update an order's status, even after shipping it, will lower your Amazon performance metrics. Additionally, you won't be paid for the order at all if you don't confirm shipment within 30 days.
This gives brands on Amazon a single report with all of the fulfilment information for their orders. You can set up reports to be generated automatically or manually within Amazon Seller Central.
Amazonís Selling Partner API
The Amazon Seller Central account can be accessed programmatically by merchants thanks to the Amazon API. It enables merchants to sync data from their accounts with their own IT systems, to put it another way.
This means that if your internal developers are registered with Amazon, they can create applications for usage with your account. This gives businesses the ability to build their own unique Amazon order management system and seamlessly import order data.
Additionally, this API enables independent programmers to create trustworthy applications that link up with your Amazon account directly.
Final Thoughts
Order fulfilment is handled entirely by Amazon's order management solution. Amazon provides a variety of options for completing orders because it is a reputable e-commerce company. They include dropshipping, Seller Fulfilled Prime, Amazon FBA, and third-party order fulfilment.
We suggest you take a look at IBR Infotech's Amazon Inventory & Order Management Solution to manage all your orders and inventory efficiently from a single platform.