The job of human resources is to meet the needs and goals of employees. Keeping workers satisfied will promote loyalty and increase output. It requires more frequent staff communication, unity, and friendship. Unfortunately, HR staff spends much of their time on administrative and documentation responsibilities, giving them little to no time for employee engagement.
Human resources, however, have undergone a tremendous shift recently. It is no longer perceived as a back-end office covered in mountains of paperwork. Modern HR departments have adopted cutting-edge technology to support this change and play a key role in accomplishing company objectives. HR professionals can perform difficult HR processes like payroll, leave and attendance, onboarding, and more with ease thanks to cloud-based HR Management Software Solutions.
What advantages may your business gain from adopting HR management software solutions?
Companies frequently look for human resources software solutions that could boost efficiency and improve the accuracy of human resources tasks as a result of improvements in cloud technology. Moreover, It eliminates the potential for human error. Businesses are now able to fully automate their HR programs with the help of HR Management Software development.
The advantages of HR software have led to improved performance across a number of areas, including hiring, interviews, paperwork, onboarding, attendance control, payroll, learning and development, compliance, streaming workflow, and alleviating tasks.
Recruitment app & Interview scheduler
The process starts with smart recruitment sites where individuals can easily submit their resumes to apply for various open vacancies. These resumes will be scanned by HR Management Software Solutions for keywords related to the job specifications, and the software will notify the recruiter if a match is found. This eliminates the need to manually review hundreds of resumes to find qualified individuals. In accordance with the availability of both parties or the hiring Manager, interviews with candidates may be planned automatically.
Documentation scanner & Appointment letter
The chosen candidate may be required to submit any additional papers for validation in the HR Management Software. For background checks, these papers might be sent to other service providers. Depending on the feedback, the appointment letter may be sent to the applicant through encrypted mail sent online. The acceptance letter can be digitally signed by the candidate, and the files can be saved for further use.
Onboarding & Payroll inputs
The most recent HR software solutions have an entirely automated onboarding module that requires little to no physical contact. As soon as the employee is onboarded, the joining information and banking information is instantly forwarded to the payroll department for further processing, including the calculation of remuneration.
Attendance data & Leave quota generation
It is no longer difficult or time-consuming for human resources to track leave and attendance. The system will compute the leave quota based on the date of joining, and the payroll department will create an employee account for the employee with their attendance and leave information.
Mandatory or Functional training scheduler
Companies may easily conduct regular, required training for their staff using cloud HR Management Software, and can set up a training calendar for each employee to monitor compliance. Functional managers can also arrange for team members' training.
Performance evaluation, Salary changes, Promotion management
One of the key responsibilities of human resources is the evaluation of employee performance. This process used to require a significant amount of paperwork and data gathering, which took up a lot of useful time. Employee performance can now be tracked in real time with HR software.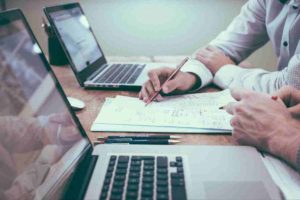 The cloud-based human resource software solutions can handle every aspect of managing an employee's life cycle. HR or any applicable Managers can evaluate historical data to determine the employee's skill level and area of expertise. For many worthy circumstances, wage adjustments or promotions can be recommended based on performance goals and accomplishments. The updated information is then immediately transmitted to Payroll for additional processing.
Employee Engagement, Incentives, Rewards & Recognition
Modern mobile technology is used by employees to connect and cooperate while on the go via cloud-based HR solutions. In only a few clicks, HR can bulk-broadcast vital information and company updates to employees. Employees can also view all of their conduct and benefits information from any location at any time.
Employees can cooperate and communicate across departments easily and fast because of the software's secure platform. The system can be set up to calculate sales/production incentives or required bonuses automatically based on a pre-established formula or time frame. In order to be referenced or paid for through payroll, rewards or recognition can be saved in the employee profile.
Processing payroll is one of HR's most important responsibilities. HR software solutions make it simple to manage to pay input collection and computation, pay calculations, statutory compliances, payslips, bank file transfers, accounting, reports, MIS, etc.
Benefits tracker, Life/Medical insurance tracker
Automated Software Solutions make it simple to administer employee perks like gratuities, ESOPS, provident funds, etc. Additional benefits can also be added, such as life and health insurance nominations, claims, etc.
Employee Queries, Policy, HR Rules, and procedure library
Employees can use a single source window at any moment to view various HR/Payroll regulations or procedures. AI-enabled chatbots that automatically respond to routine employee questions about their pay or HR-related rules by voice or text have been introduced by HR with the help of new technology. The System is a sizable database with files for every employee and transaction, making it simple to retrieve any data for reference or audit.
Quick and easy software implementation
Sometimes adopting and implementing the newest technology might be difficult for HR professionals. However, since they are available in a Customizable format, SaaS HR Software is simple to deploy. Most of them are easier to use and more comfortable than conventional HR software solutions because they don't need to be guided.
It is crucial to modernise and transform into an automated HRMS system if you want to keep on top of trends. All essential human resource functionality is consolidated into a single cloud-based platform via a SaaS HR software solution. Compared to conventional on-premise software systems, this makes HR work easier.
Conclusion
HR Management Software is now a necessity rather than a choice or an opportunity. It is rapidly changing every critical HR function, including hiring, onboarding, and employee retention, so its significance will only increase over time. Companies that adapt and create a comprehensive, tech-driven HR department will inevitably be ahead of the competition in the long run. At IBR InfoTech, our complete cycle software development team of professionals develops human resource system software for businesses to attract and retain truly talented individuals. To satisfy the needs of the organisation, we strive to create business-centric, customised HR software solutions.