Your internet store accepts payments from anyone in the world. There's no need to be worried about using resellers, hosting, or coding to purchase names. Is this an internet shopping fairy tale? In no way. In this blog, we'll discuss our experience utilising the Shopify platform and compare it to our understanding of the subject at hand.
What is Shopify development?
Shopify is a subscription-based all-in-one e-commerce platform that enables customers to manage their own online stores. Via Shopify POS, which includes physical point-of-sale tools and lets you sync and manage inventory on any chosen device, you can also sell goods in person. The trading platform enables you to start your ideal company from the beginning and begin selling right away.
Shopify offers a vast ecosystem of tools, integrations, extensions, and applications, unlike store builders, so you may choose the ones that best meet the demands of your particular requirement. You can set up a quick launch on the site and begin selling right away. With the aid of the Shopify APIs and App Store, it is possible to create an online store from start, migrate from another platform, or enhance and personalise your already-existing site.
Since its debut in 2006, Shopify has grown quickly, evolving from a modest startup into the top platform for online commerce. According to Statista analysis, among the top 10 e-commerce platforms in 2021, Shopify is ranked third.
What are the advantages of Shopify for creating an online store for your business?
You may build a business quickly, create a design, link payments, integrate all systems, set up an SEO, and get it for 29 dollars by basic subscription per month with e-commerce store development with Shopify. By gaining new clients every day, you can scale your firm and fast recover these costs.
Easy to set up and manage
Shopify provides you with top-notch hosting, so high-speed performance for your store is already a given. Just choosing the incorrect software settings can bring you slower. You can have a customised e-commerce website and a simple design from a Shopify developer with experience in creating Shopify businesses in 1-3 days. A basic website with all of the information and product details is created in 4–6 days. This process will take longer for some custom designs. For instance, it may take a month to three months to create an entirely new e-store based on a client's design specifications.
Furthermore, Shopify offers a 14-day free trial. The tools' necessity can be tested. Everything is evident from the moment you utilise the Shopify store administration panel's interface, which is simple and easy to use.
The basis for SEO and keyword stuffing
Conducting keyword research strategically is necessary in the context of e-commerce. A Shopify-built store will have access to keyword stuffing and potent SEO tools. This requires a thorough examination of the top-selling goods and pertinent inquiries of the target market.
You should conduct research on the mid-frequency keywords relevant to this topic. For instance, the biggest companies in the market will dominate high-frequency searches like "women's tracksuit." Finding mid-frequency keywords that are current and relevant would be more effective. In contrast, a fashionista could search for "women's compression tracksuit," "women's beige tracksuit with a zipper," or other more precise terms.
The first stage in optimisation, regardless of the fact that you have a ready-made online business, should have keyword research. An SEO expert could gather the keywords relevant to your sector before analysing and putting together the semantic core.
Following that, it is feasible to link Facebook Pixel with marketing tools to keep users' interest and boost the volume of organic traffic. To boost the amount of the site's link mass, you might employ other sales channels like eBay, Amazon, Houzz, Twitter, and Facebook.
Sales are being driven by mobile applications; the typical customer uses Shopify for more than 3 minutes and visits over 3 merchants to compare selections and prices. In other words, you don't have much time to wow the user, do you?
Every Shopify theme is optimised for mobile. That implies that every page will appropriately display and function on every device. You don't have to spend any time redesigning or making the sites look appealing to customers. Pictures and text are accurately presented, readable, and do not overlap.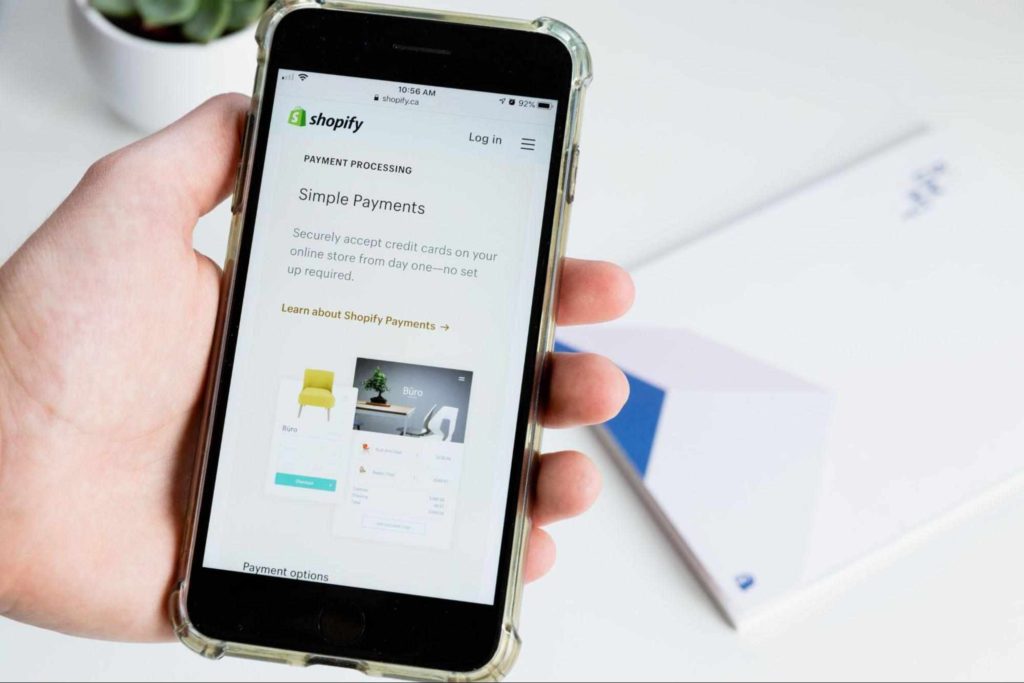 Any SSL certificate can be used by Shopify to encrypt data and transport it via a secure connection. The platform complies with the PCI Standard, which specifies the level of data protection needed when handling credit card transactions. The regulation secures the client's funds and prevents issues that can arise during the payment process:
Controls to prevent the loss of personal data.
Implements strict access control measures.
Provides safety during all phases of money transfer and crediting.
The platform features a separate payment method as well. Use of Shopify Payments will result in:
Processing timely retail orders and payments
Manage product exchanges and returns
Combine all financial activities into a single personal account.
The Shopify staff is available around-the-clock and responds to queries immediately, so you'll never be without information or feedback. More than 8,00,000 businesses participate in Shopify's community, which responds quickly to inquiries about the particulars of your industry. You can search online for answers or get in touch with the support team via phone, email, or online chat.
Process of Shopify development
The distinction between digital and physical transactions is blurred by the Shopify platform, which is a sizable playground. The integration of technical knowledge with creative vision is necessary for development. Our team at IBR Infotech has been constructing custom e-commerce websites using Shopify capabilities for a variety of solutions. To better grasp the procedure for developing a Shopify store, let's take a look at the development stages of the platform.
Discovery and planning.
Theme design services.
Development and integration.
E-commerce testing.
Website launch.
Maintenance and support.
Most Common types of Shopify development services
Several stages of business development need the solution of problems of varying complexity. You can scale your online business, migrate, and personalise functionality with the use of Shopify services.
Theme development and customization.
Store setup and customization.
App development.
Migration.
Store updating and maintenance.
Shopify Plus enterprise services.
Key Takeaways
You may have learned by the end of this blog that custom Shopify development services offer eCommerce businesses solutions that are made specifically for their needs. These solutions enhance user experience, increase functionality, enable seamless integration, increase sales, and better data insights.
Do you not wish to obtain all of these advantages? Of course, yes!
The Shopify development company has the competency, expertise, and certification that can provide you with top-quality bespoke Shopify development solutions fulfilling your business demand within your budget and timescale.