What Is Supply Chain Management (SCM)?†
Supply chain management (SCM) includes all aspects of organising, implementing, and overseeing the movement of products and services to effectively meet consumer needs. SCM covers the movement and storage of raw materials, inventories for work-in-progress, and finished goods from the point of production to customer delivery.
†††††††††††††††††††††††††††††††††††††††††††
Importance of Supply Chain Management†
Supply chain management is crucial as it will assist in achieving the majority of corporate goals. Controlling the manufacturing procedures, for instance, will raise product quality, lower the possibility of recalls and legal action, and support the development of a strong consumer brand. Supervision over shipping processes will also enhance customer service by preventing expensive shortages or periods of inventory overproduction. Supply chain management, in general, offers businesses a number of chances to increase their profit margins, and it is especially crucial for businesses with significant global operations.
Benefits of Supply Chain Management†
The following are some advantages of supply chain management:
Higher profits
New efficiencies
Increased collaboration
Lower costs
Manage inventory
Manage better demand
Meet customer demand on time
Primary Functions Of Supply Chain Management
The key functions of supply chain management will help us figure out how various forms of software can help handle the challenges that this sector faces. They are as follows:
The primary role of supply chain management is this. It has to do with getting the supplies needed to make the products, such as raw materials and other resources. To ensure that the materials are delivered without delay, communication with suppliers is necessary.
The operations staff forecasts and plans for demand. The organisation must estimate the potential market demand and the number of units it needs to create before issuing a purchase order for raw materials. As a result, it also starts the process for managing inventories, producing goods, and delivering them. Overestimating the demand could result in higher inventory costs. If demand is underestimated, the company wouldn't be able to meet client demand, which would result in lost revenue. Therefore, the operations function is crucial to supply chain management.
This aspect of supply chain management requires a great deal of communication. The production of goods has started. It requires a place for storage before being conveyed for delivery. This requires setting up a nearby warehouse. Let's say that the products need to be delivered outside the boundaries of the city, state, or nation. This completes the circle of transportation. Additionally, there will be a demand for outlying warehouses. Logistics makes sure that the functions go well and that products arrive at their locations.
Any production requires the use of labour, time, technology, and raw materials. All functions must, however, be efficient and effective. The resource management function team handles this phase of the process. It chooses how to allocate resources to the appropriate task at a suitable time to maximise output while reducing costs.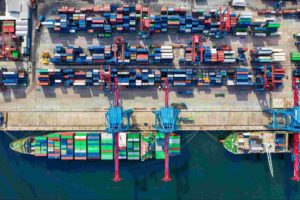 ††††††††††††††††††††††††††††††††††††††††††††††
Features of supply chain management software
Your company has to successfully manage inventory if you want a seamless, effective supply chain. The required supplies must be stored in the right amount at the appropriate times, together with the raw materials, completed goods, and spare or additional parts. The use of inventory management tools helps your business avoid ever having to deal with overstocking or understocking by optimising inventory levels. With real-time tools, you can work exactly since you always know where your inventory is.
Order and billing Management
It's no secret that effective order and billing management is critical to your supply chain. Your SCM software should be able to generate orders and send invoices to customers from a single, central location. The best order management features allow the solution to be very customizable and operate with your specific order requirements. We at IBR Infotech provide the best order and billing management software that can help in your day-to-day activity.
Through the use of warehouse management tools, your business can increase accuracy and efficiency in the warehouse while optimising stock levels. These tools enable businesses to handle orders from many sources, ensuring that all requirements are met promptly and affordably. Since warehouse operations play a significant role in your supply chain, selecting a solution without integrated warehouse management features might delay and complicate the supply chain process as a whole. However, with IBR Infotech's warehouse management solution, your business can manage all cross-docking, replenishment, and putaway.
Logistics and transportation tools
Your business will carry materials and goods effectively and cost-effectively with the help of logistics and transportation tools. These tools offer the resources required to control fuel expenses and different state and federal norms and regulations that are constantly changing. These characteristics should be present in your selected supply chain management solution in order to lower overall operating expenses and smooth out any kinks in the supply chain. Your built-in logistics and transportation tools may include dispatch management, appointment scheduling, and yard management.
Looking To Find A Trusted Tech Partner?
Your company can compete in the quick-paced industry by implementing a solution with the appropriate features. Use a single platform solution that offers your company the best supply chain management features, as mentioned above.
IBR Infotech's Supply Chain Management software includes a comprehensive set of tools that assist your company in optimising its supply chain activities.