Custom software development might be the finest software decision for your company. It provides a variety of advantages, including more scalability and flexibility at a cheaper cost, and it is an innovative way to keep up with the latest advancements.
Custom Software Development Overview
Businesses are seeking new ways to stay ahead of the curve as technology advances and customer demands rise. A certain type of software has gained increased popularity in this area as maybe the best method for staying ahead of the curve.
As both technology and customers become more complex and demanding, organisations are turning more and more to custom software development as a solution to difficulties in a variety of areas. The flexibility to scale it in either direction and adapt it to your needs is one advantage of creating custom software for your business. Commercial alternatives may really be insufficient or ineffectual.
What Is Cybersecurity Software?
Computer systems are safeguarded by cybersecurity software from threats to their hardware, software, and data files. The threats come in the form of ransomware, which locks and encrypts your computer data until you pay the hacker to decrypt it, or malware, which is harmful software that, once installed, steals login passwords, sends spam to contacts, or crashes your computer system.
By identifying the malware and preventing its installation, cybersecurity software shields users from these attacks.
Importance of Cyber security in Software Development
The significance of cybersecurity in software development can be wrapped up by these concepts:
In order to avoid theft or unauthorised access to sensitive data, such as financial information, user data, and personal information, cybersecurity is important. Mobile apps are an obvious target for hackers because they collect and store huge amounts of personal data. Software developers can stop sensitive data from being stolen or accessed without authorization by implementing robust security measures.
Compliance with Regulations
Customers trust mobile apps with their financial and personal information, but a security flaw may swiftly destroy that confidence. By placing a high priority on cybersecurity, software developers may ensure the protection of their clients' data and keep their trust. If users are comfortable using a mobile app, they are more likely to stick around and promote it to others, which can support the app's long-term growth and success.
Prevention of Financial Losses
Sensitive information may be accessed, resulting in financial damages for the firm and the impacted clients. Software engineers can reduce these losses by prioritising cybersecurity. As soon as possible, cybersecurity must take priority since, in the event of a breach, the cost of restoring security and repairing damages may be high.
Maintaining Brand Reputation
After a security breach, repairing a company's reputation can be difficult and expensive. Software developers can safeguard their company's reputation and prevent future harm by concentrating on cybersecurity. A software's reputation for dependability and security can help it stand out in a crowded market and attract more customers.
Reason to consider developing custom cybersecurity software
When you rely on off-the-shelf software solutions for security, you are trusting and relying on someone else's security idea. Is this something you'd consider doing to protect your customers' data?
The developers of bundled software assume that the business owner would utilise other applications to secure their data from cyber-attacks and crimes. As a result, it makes sense as the program is intended for business use. At the same time, many consumers believe that using a complex password is enough to secure their data, which is inaccurate. Every business has various security demands, and each business owner has distinct security requirements, therefore adhering to strict security standards may set you apart from your competition. A tiny external security violation on a single program in some sectors can open the entire database. By preserving your clients' data, you can avoid countless complaints from customers whose data has been hacked.
Security Frameworks and organizational systems
We claimed that customised cybersecurity software tools and solutions are safer; this is correct. There is, however, not complete guarantee of security. To stay up with the quick changes in the cyber world, custom software must continue in a development cycle throughout its existence. To obtain custom software, you might seek professional assistance from reputable custom software development companies like IBR Infotech.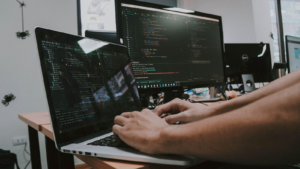 Dedicated development firms will use a framework to ensure that their entire organisation (techniques, technologies, and individuals/teams) is in accordance with rules, regulations, guidelines, and policies. This framework is a method for identifying hazards sufficiently in advance, limiting the potential consequences of exploiting any undetected vulnerabilities and enabling a fast response to remedy the root causes of the vulnerabilities.
It would be ideal if you considered cybersecurity in a broader sense. You predict something that hasn't happened yet and take the necessary steps to prevent it from happening in the future. Managing security at the project level is insufficient. Prioritising enterprise-level security is the best choice. Determine that your software development partner approaches cybersecurity from the point of view of regulators.
You can better manage access while dealing with custom software than when using off-the-shelf software. What truly differentiates custom software is the ability to integrate all of the specifications that you believe will benefit your business. Then, when cybersecurity solution providers build your cybersecure IT solutions, you can urge them to place some barriers in front of hackers to prevent them from passing via your company's back doors.
Passwords and usernames are the quickest way for thieves to commit cybercrime. If you rely on off-the-shelf software to protect your users' passwords or data, you are effectively turning up your data to cyber criminals. You also expose yourself to two types of cybersecurity threats. The first threat is an attack on your own organisation. The second threat is an attack on the packaged software. In any event, your loss will be significant.
A customised solution can be used to control access. You can, for example, set passwords to expire and retain a record of old passwords to avoid reusing them. Furthermore, you are allowed to utilise your software to change the IP addresses.
How Could IBR Infotech Help Improve an Entityís Security Using Custom cybersecurity software development?
IBR Infotech develops innovative solutions to prevent attacks, backdoor entry, and vulnerabilities, as well as to manage risks.
For example, when IBR Infotech developers build custom applications for their clients, they design strong authentication, credential authorisation, and identity management checks for each login.
IBR Infotech continues to work hard in the bespoke software development industry, providing software solutions to clients in a variety of industries including healthcare, government, energy, and education.