A content management system of some sort is a need if your website is frequently updated and has a lot of content. There are numerous free and practical solutions that are already available. However, the demands on a CMS increase dramatically if you intend to make money from your website or if you require a business-class solution. Let's talk about the advantages of custom CMS development over custom CMS options and the reasons you should do so.
Types of content management systems
Even though there are many different types of content management systems, the term "CMS" most frequently refers to tools for managing web content. This is due to the fact that WCMSs are the most widely used kind of content management system. To acquire a complete picture and a deeper understanding of the notion, let's look at some types.
Content management systems can be categorised in a number of ways depending on the type of content, the location of implementation, and other elements. While some of them are clearly defined, others are somewhat nebulous. Here is an example of a divide using just two CMS types:
Web content management system (WCMS)
It is the type of content management system that is most frequently used. WCMSs control the content of websites, as their name suggests. They are typically quite adaptable and can work well for a variety of websites, including blogs, news aggregators, online galleries, e-commerce marketplaces, and others. While some of them come with the necessary capabilities pre-installed, others call for additional plugins and services. Examples: Joomla, Drupal, WordPress.
Enterprise content management system (ECMS)
This content management system is scalable and has extensive capabilities. It must be modified to meet the requirements and specifics of business use, including business automation, analysis, etc. Document management systems (DMS) are frequently categorised under this category. Examples include Xerox DocuShare, OnBase, and IBM FileNet Content Manager.
Some experts identify different kinds of content management systems as an addition to or an extension of the well-known WCMS and ECMS. These are two examples of these CMS types:
Component content management system (CCMS)
It organises structured material using an alternative methodology that treats content as components as opposed to documents. Components can include sentences, definitions, and even single words. One important aspect is that rather than being duplicated, a component is only saved in the system once and then reused via links. All components are provided with information, which makes searching, version tracking, and other related tasks easier. This is another distinguishing feature. Examples are SDL Tridion Docs and easyDITA CCMS.
Digital asset management system (DAMS)
It serves as a library for digital media like books, audio, video, pictures, and other original works. DAMS often offers publishing and distribution capabilities for media material. Examples: Cloudinary, Daminion, and Cumulus.
What benefits result from using a CMS?
In such instances, if you operate a website, you will benefit from using a content management system:
You maintain a dynamic website that is frequently updated;
You lack the necessary expertise and time to provide the appropriate amount of information through code programming.
You do not have the knowledge and time to make regular bug fixes and increase website security.
You do not have the necessary expertise and time to develop the site's web design or functionality.
The primary objective of content management systems is to make all content-related actions quick and simple for users. For instance, utilising a CMS to publish content on a website does not require knowledge of HTML or CSS, or programming. Content management systems typically include user-friendly editors that adhere to the principle "what you see is what you get."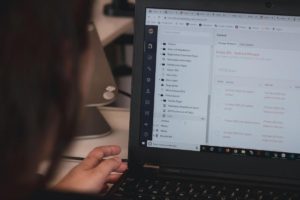 A variety of predefined design options, downloadable plugins, and other tools are also available in many content management systems, which can be used to customise a website. A complex CMS platform that includes the whole set of functionality needed to develop a website from scratch, including hosting, a page builder, CDN integration, built-in analytics, SEO, and marketing tools, etc. may also include a content management system as a key component. As a result, a customer can choose such all-in-one SaaS solutions that save plenty of time and effort rather than running a CMS on a server and carrying out numerous other processes to establish a website.
Why choose custom CMS Development in 2023?
Custom content management systems are one-of-a-kind solutions designed particularly for one customer. Their development requires a long time and money, but the benefits outweigh the costs. Let's examine why a custom content management system (CMS) is important.
A user must adjust to the features of ready-made solutions, but a custom CMS is created to properly suit the client's demands.
A development team considers the client's long-term goals and business strategy throughout the planning phase.
Better performance in the case of custom web content management systems leads to faster loading times, which are advantageous for users and SEO ranking.
Better design and usability
A website can have a flawless appearance that exactly matches the brand identity requirements due to a custom CMS. In addition to having an attractive look, it also enables the creation of content blocks with an optimised layout. Therefore, the building of a custom CMS ensures that users will stay on the website longer and become more devoted to the business.
Conclusion
A carefully planned custom CMS is a great basis for any online project that requires a simple and secure method of adding, removing, or changing digital information. Custom CMS development is a good investment for any online marketplace, organisation, content distribution service, or other business prepared to pay for additional benefits. Contact us if you wish to become an administrator of a custom CMS. Our developers at IBR Infotech will create a unique content management system only for you.